12.9.2008 - Fyrrverandi topp fimmarar og gestalistamenn

Iggy og Peaches að berjast við uppvakninga… tvöfalt pönk.
Blixa Bargeld (Einstürzende Neubauten) og Meret Becker – Stella Maris

Wir haben uns im Traum verpasst…

Du träumst mich ich dich
Keine Angst ich finde dich
Bevor du noch von selbst erwachst
Stilla Maris sem síðar var skrifað Stella Maris er latína og þýðir Stjarna hafsins. Þessi stjarna hafsins er í raun María mey en lagið fjallar um draumfarir, misskilning, stefnumót dúettsins og ranga póla.
Bob Dylan og Johnny Cash – Girl From the North Country Fair

Tveir sveitó að syngja um sæta stelpu.
Cerys Matthew og Tommy Scott – The Ballad of Jom Jones

You stopped us from killing each other
(Tom Jones, Tom Jones)
You'll never know but you saved our lives
(Tom Jones, Tom Jones)
I could never throw my knickers at you
And I don't come from Wales
Hjúskaparráðgjafinn Tom Jones.
David Bowie og Mick Jagger – Dancing in the Street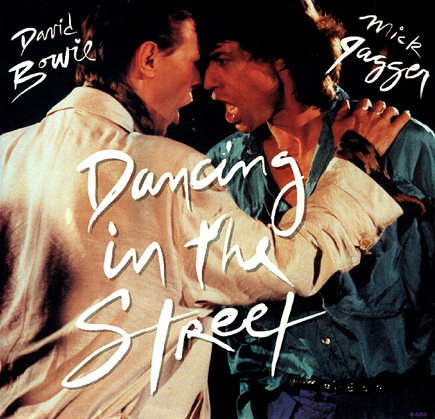 OK…
Tokyo… South America…
Australia… France…
Germany… UK…
Africaaaaaaaa…
Klæðnaðurinn, dansinn, dillið… Magnaður dúett.
Tags: Blixa Bargeld, Bob Dylan, Cerys Matthew, David Bowie, Iggy Pop, Johnny Cash, Meret Becker, Mick Jagger, Peaches, Tom Jones, Tommy Scott
Flokkað undir Listar | 1 athugasemd »